Rivista di Estetica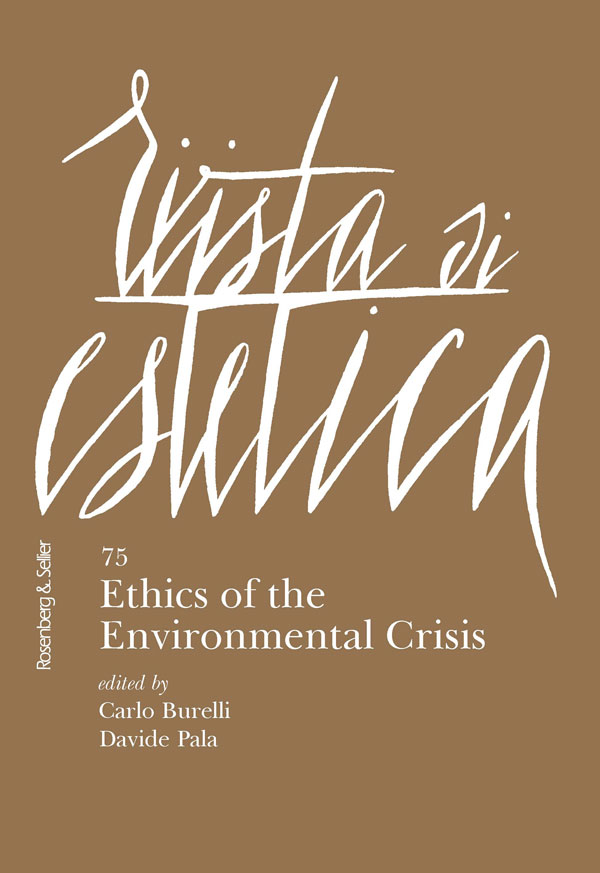 Rivista di Estetica 75
Ethics of the Environmental Crisis

anno LX, n. 75/2020
a cura di:
Carlo Burelli, Davide Pala
anno di pubblicazione: 2020
cartaceo

200 pp

9788878859210
36,00 €

pdf

1.2 MB

9788878859227
20,00 €
Few would deny that we are currently experiencing an environmental crisis of unprecedented magnitude and severity. Yet, much less clear is what phenomena the environmental crisis refers to and why they are particularly unjust. For instance, one might wonder whether the environmental crisis is unjust because it impinges on the intrinsic value of the environment, or because it severely affects humans and their human rights in particular. Equally, it is far from clear who should bear the responsibility to remedy the environmental crisis and to what extent.
This issue of Rivista di Estetica addressees these questions with the aim of clarifying what the environmental crisis is and involves, as well as how we should frame it from a justice-based perspective. It accomplishes this in four sections. The first section investigates what the environment is. The second section addresses the environmental crisis through the normative lenses of the concept of responsibility. The third section analyses the environmental crisis through a human-rights perspective. Finally, the fourth section introduces some new paths that the literature may and perhaps should take. This issue will appeal to anyone interested in the environment and its crisis.
Carlo Burelli, Davide Pala, The environmental crisis and its injustice: An (inevitably short) introduction
ontological reflections on the environment
Tiziana Andina, Climate issue: The principle of transgenerational responsibility
Francesca De Vecchi, Common-surrounding world and qualitative social ontology – phenomenological insights for the environment and its crisis
responsibility for the environment
Davide Vecchi, Organismality grounds species collective responsibility
Silvia Bacchetta, Reasons for agreeing, reasons for complying: The Paris Agreement and the compliance issue
the environment and human rights
Sebastian Muders, Human dignity: Final, inherent, absolute?
Markku Oksanen, On tackling environmental crisis through human rights
new problems and perspectives
Andrea Borghini, Nicola Piras, Beatrice Serini, Ontological frameworks for food utopias
Sue Spaid, Tying climate justice to hydrological justice
varia
Adam Andrzejewski, Mateusz Salwa, The ontology of landscape
Ernesto C. Sferrazza Papa, Filosofia e Border Studies. Dal confine come "oggetto" al confine come "dispositivo"