Studi Francesi
«Studi francesi» was founded by Franco Simone in 1957 and is the oldest and most renowned scientific journal in Italy in the field of French literature studies. This quarterly journal publishes articles spanning all areas of the discipline (historical, critical, philological), for an in-depth knowledge of French literature and cultural history and a renewal of critical approaches.
The international Advisory Board brings together scholars in the different areas of the French studies. In considering articles for publication, the Editorial Board will consult with expert readers according to a "blind reading" policy.
The «Studi»'s review section – one of its characteristic features since the beginning – provides an extensive and accurate coverage of the most recent works published internationally in this area of research, including francophone literatures, from medieval to contemporary age.
ISSN: 0039-2944
lang: eng
page: journals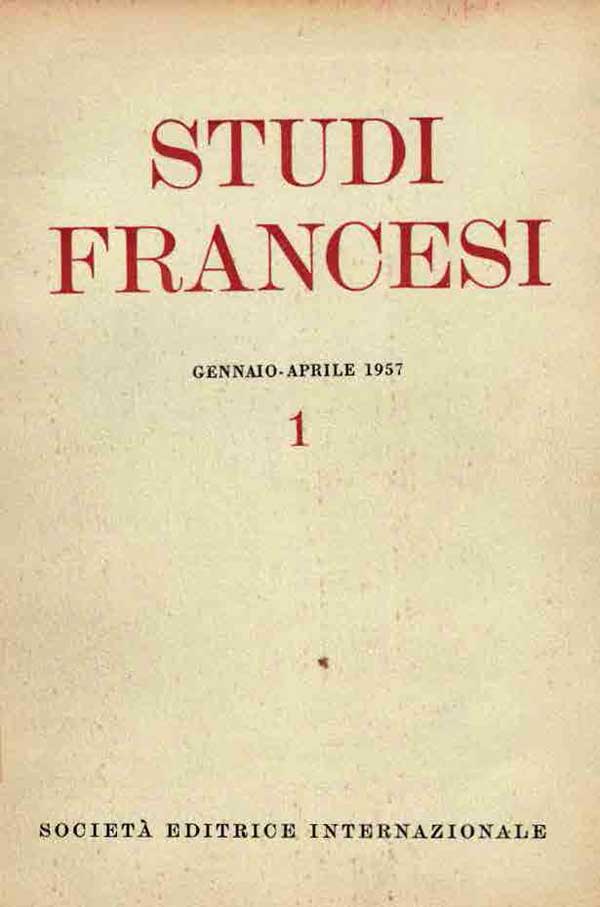 Studi Francesi 1
n. 1/1957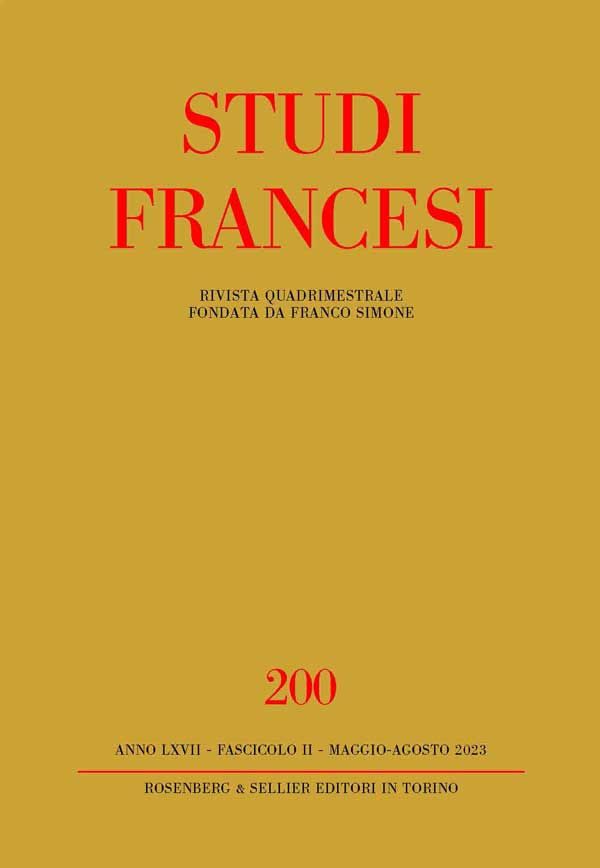 Studi Francesi 200
L'héritage de Molière: réécritures, traductions et représentations du Grand Siècle à l'âge contemporain
anno LXVII, n. 200/2023
a cura di
Gabriella Bosco, Monica Pavesio, Laura Rescia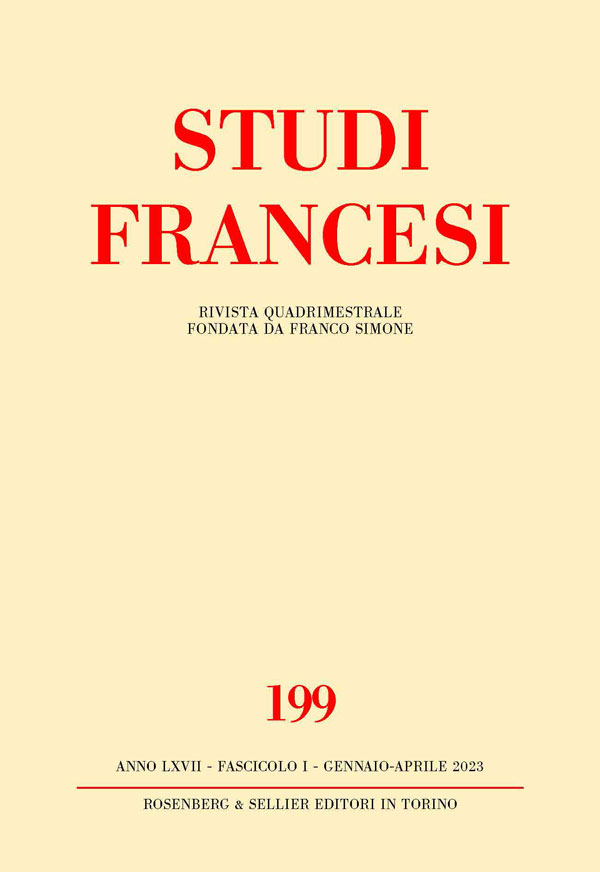 Studi Francesi 199
Yves Bonnefoy cent ans (1923-2023). Rencontres
anno LXVII, n. 199/2023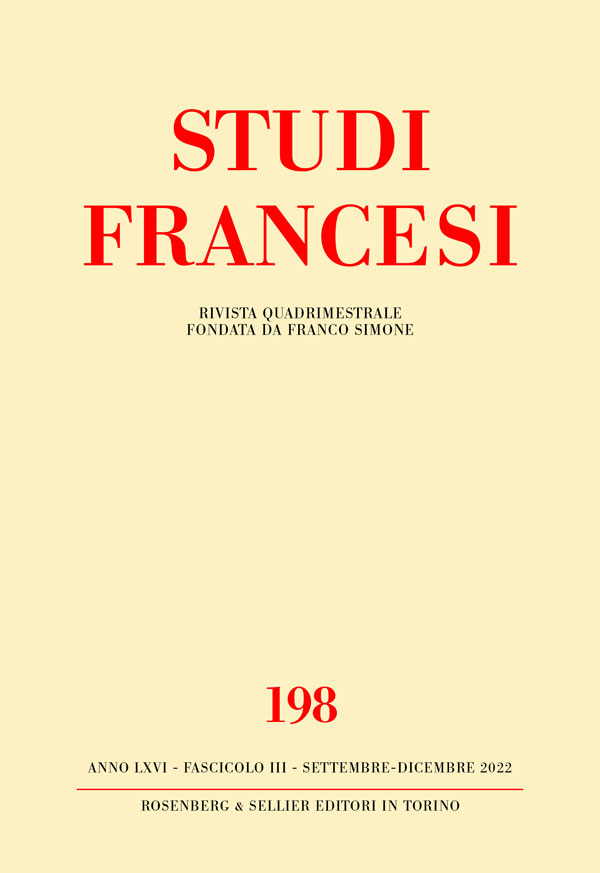 Studi Francesi 198
anno LXVI, n. 198/2022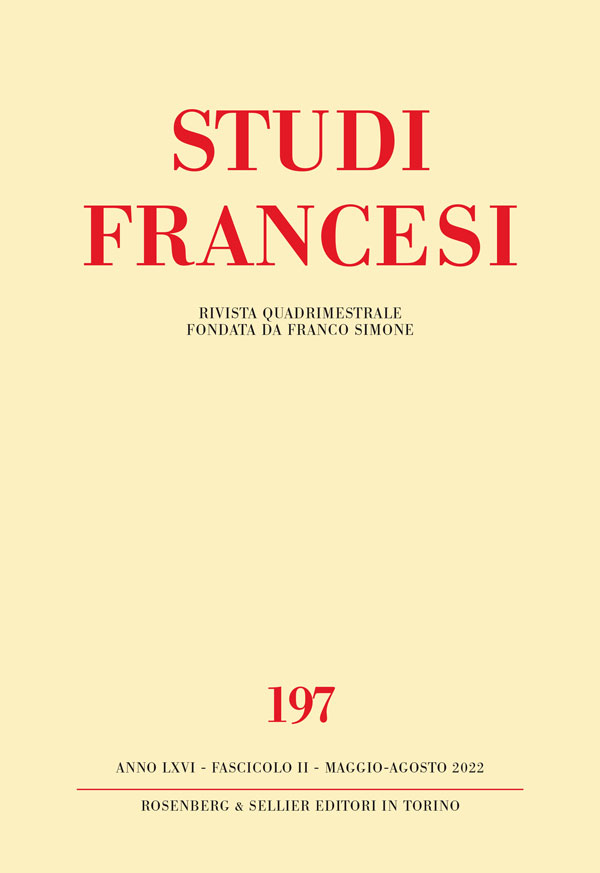 Studi Francesi 197
La loupe du lecteur. Proust et les enjeux de la lecture
anno LXVI, n. 197/2022
a cura di
Mariolina Bertini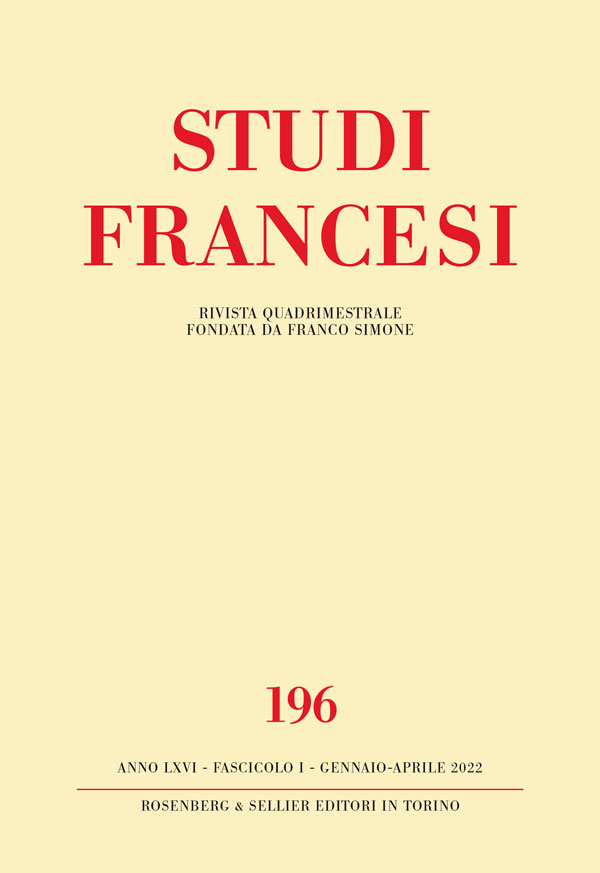 Studi Francesi 196
anno LXVI, n. 196/2022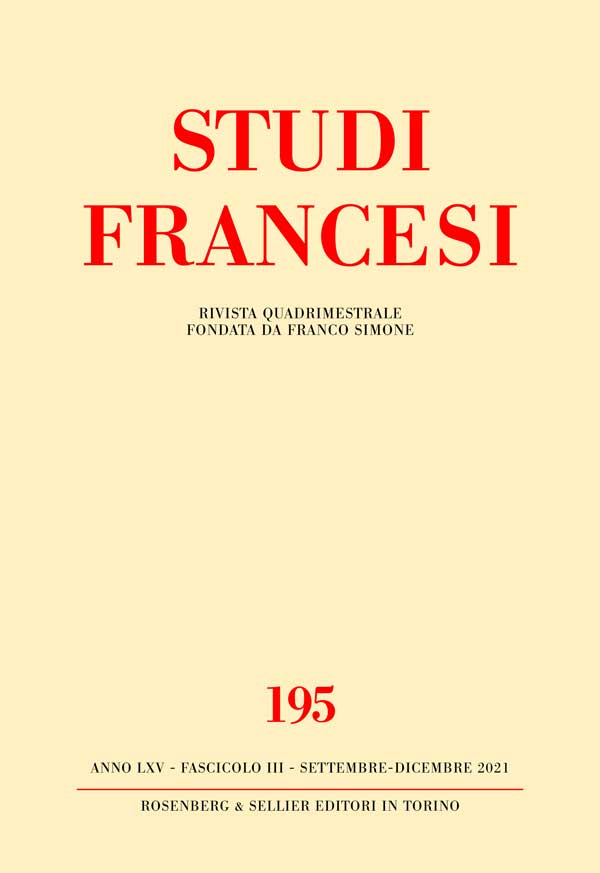 Studi Francesi 195
Christine de Pizan en 2021: traditions, filiations, genèse et diffusion des textes
anno LXV, n. 195/2021
a cura di
Gabriella Parussa, Andrea Valentini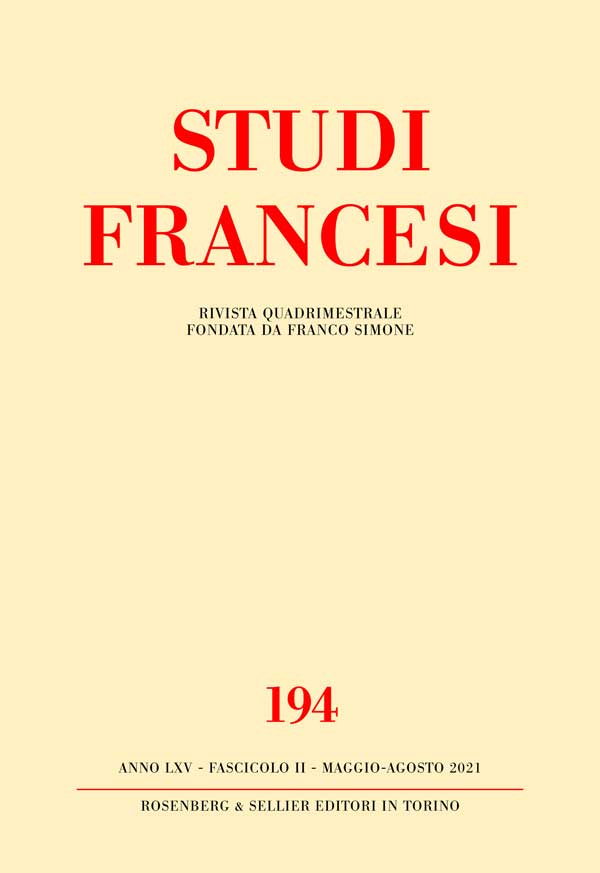 Studi Francesi 194
Baudelaire et son cénacle
anno LXV, n. 194/2021
a cura di
Aurélia Cervoni, Ida Merello, Andrea Schellino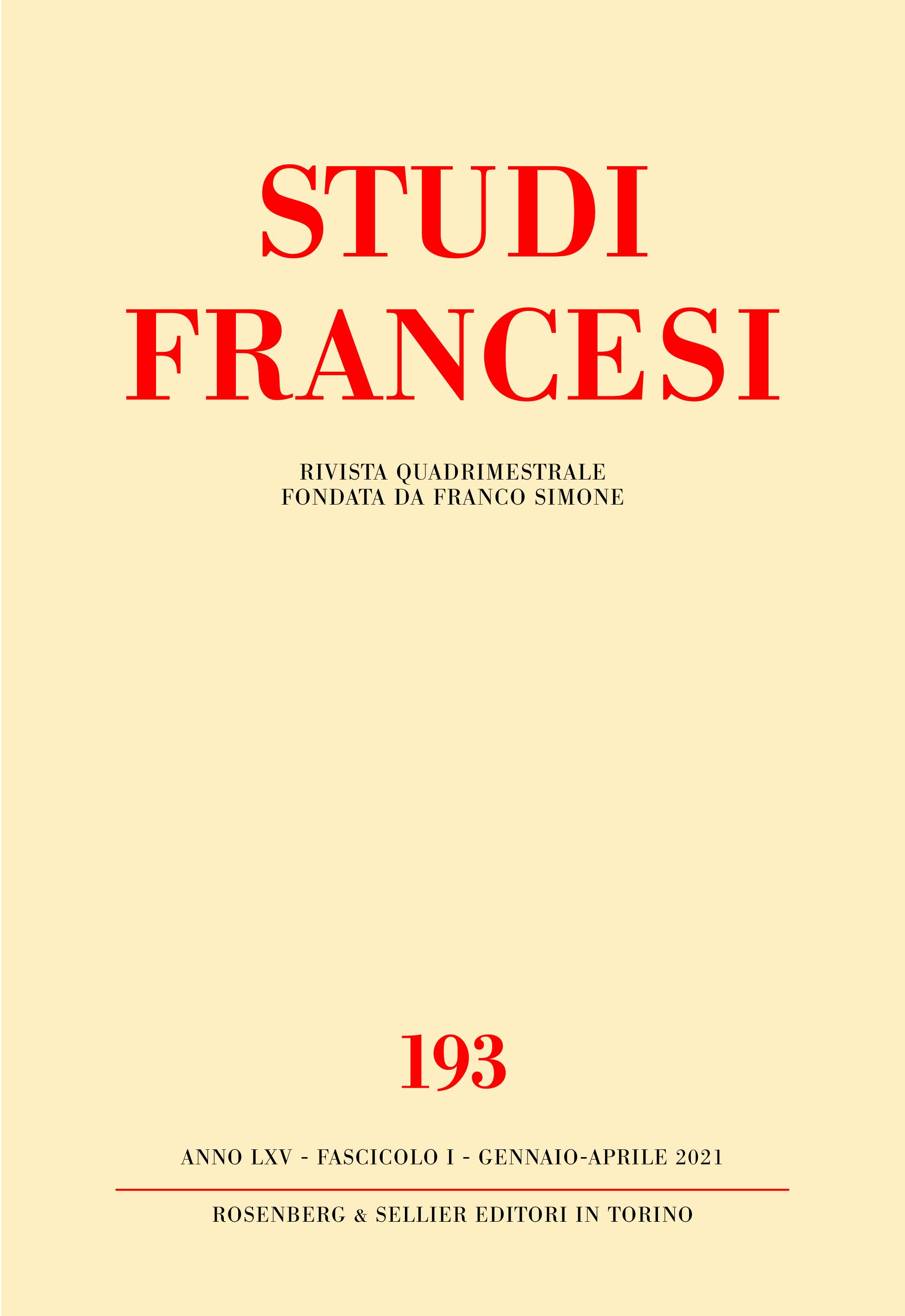 Studi Francesi 193
anno LXV, n. 193/2021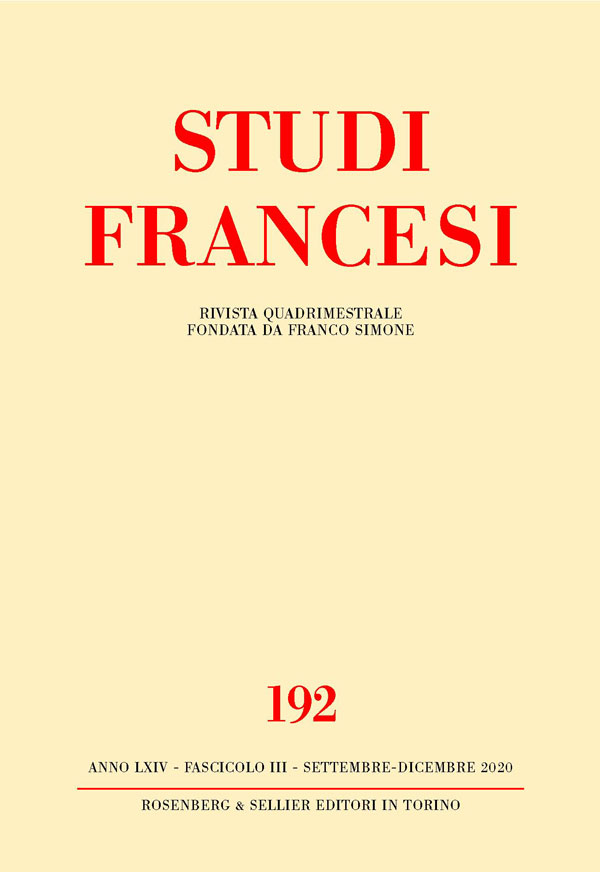 Studi Francesi 192
Texte et images entre Moyen âge et Renaissance (manuscrits et imprimés anciens)
anno LXIV, n. 192/2020
a cura di
Paola Cifarelli, Maria Colombo Timelli, Barbara Ferrari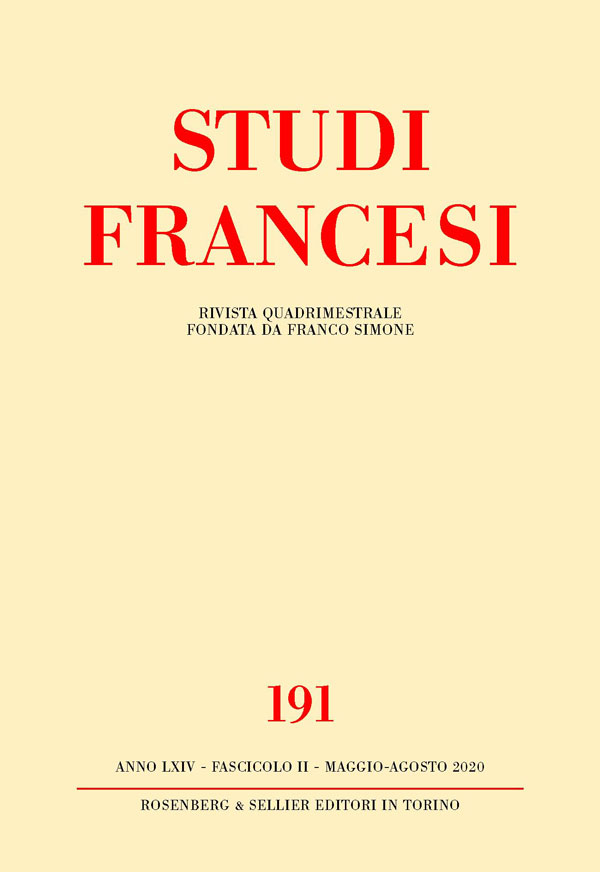 Studi Francesi 191
Théâtre, identité et politique culturelle sous le consulat et l'empire
anno LXIV, n. 191/2020
a cura di
Vincenzo De Santis, Paola Perazzolo, Franco Piva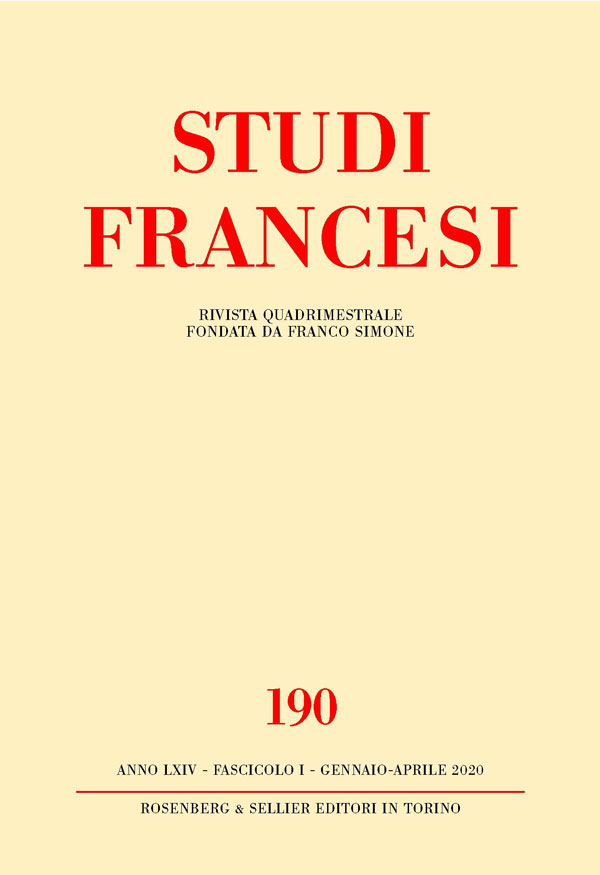 Studi Francesi 190
anno LXIV, n. 190/2020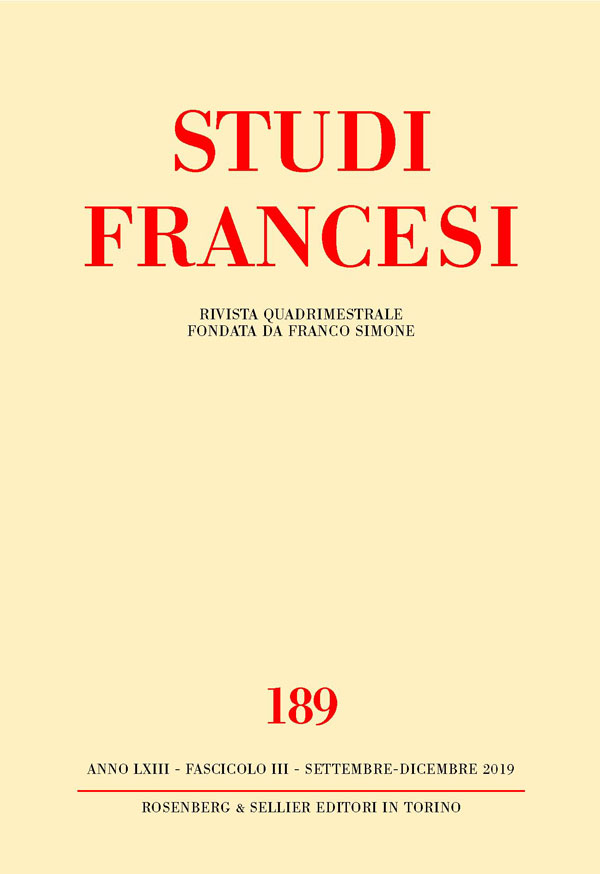 Studi Francesi 189
anno LXIII, n. 189/2019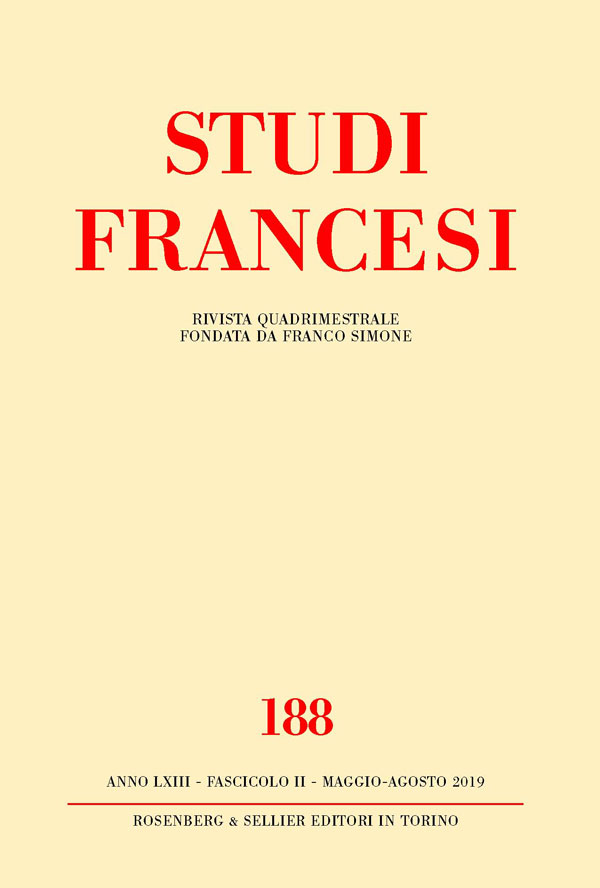 Studi Francesi 188
Penser/peser le Moyen Âge entre XVe et XVIIe siècle: parcours de recherche
anno LXIII, n. 188/2019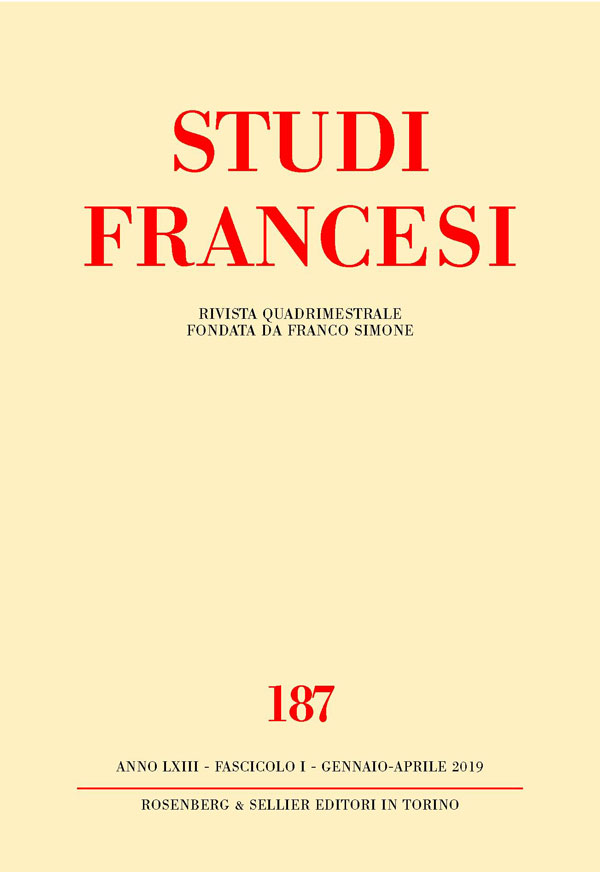 Studi Francesi 187
anno LXIII, n. 187/2019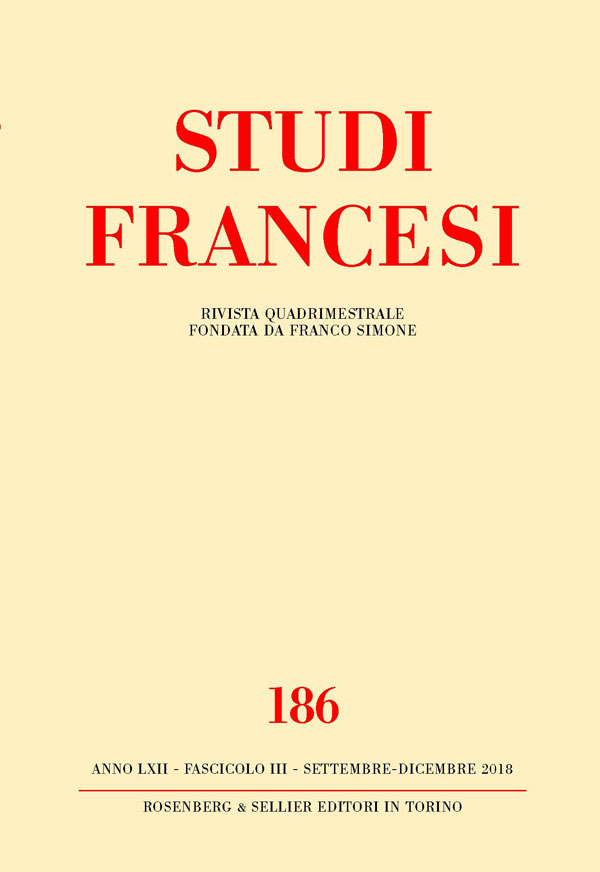 Studi Francesi 186
anno LXII, n. 186/2018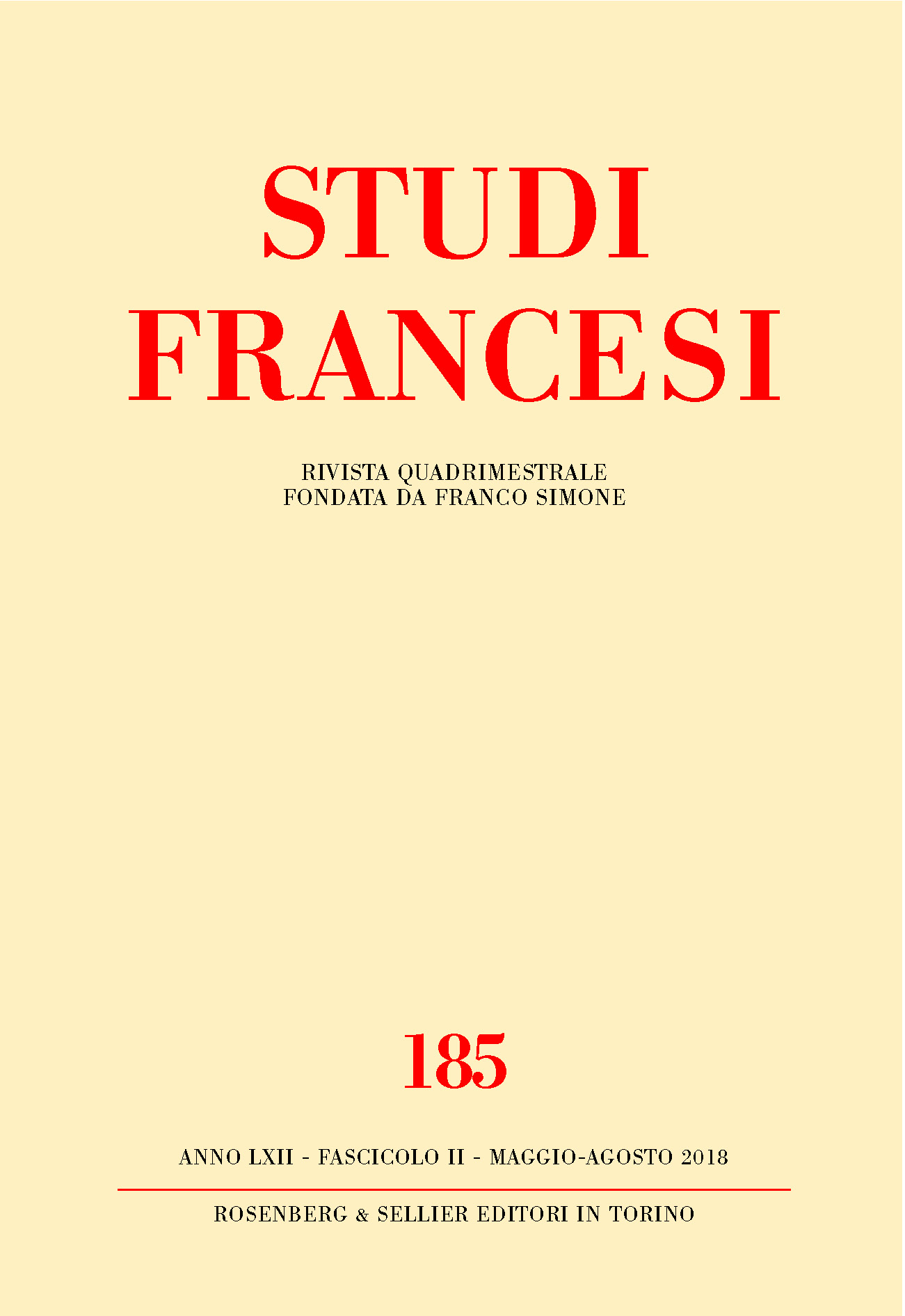 Studi Francesi 185
Octave Mirbeau: une conscience au tournant du siècle
anno LXII, n. 185/2018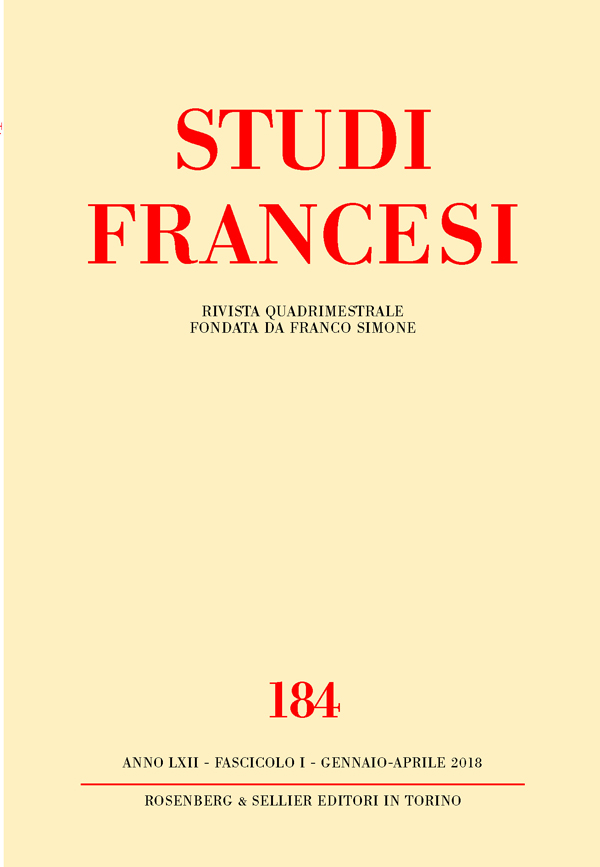 Studi Francesi 184
anno LXII, n. 184/2018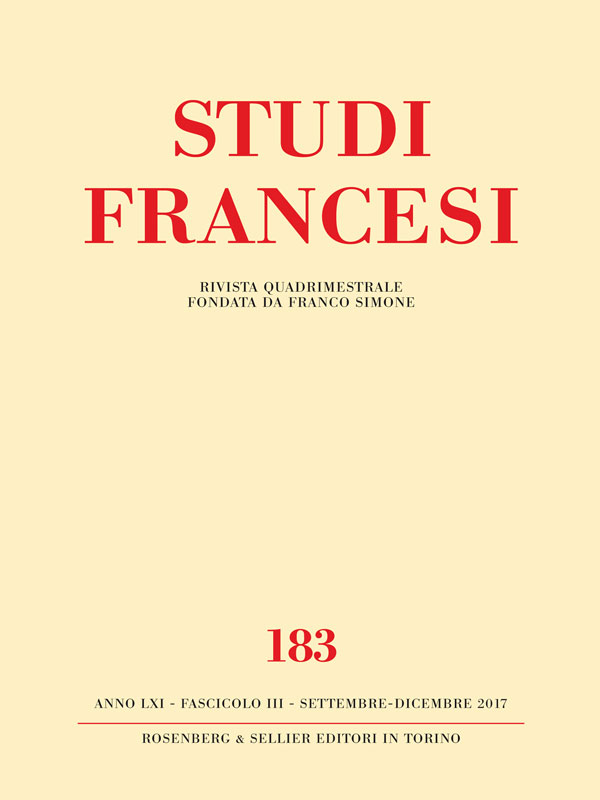 Studi Francesi 183
anno LXI, n. 183/2017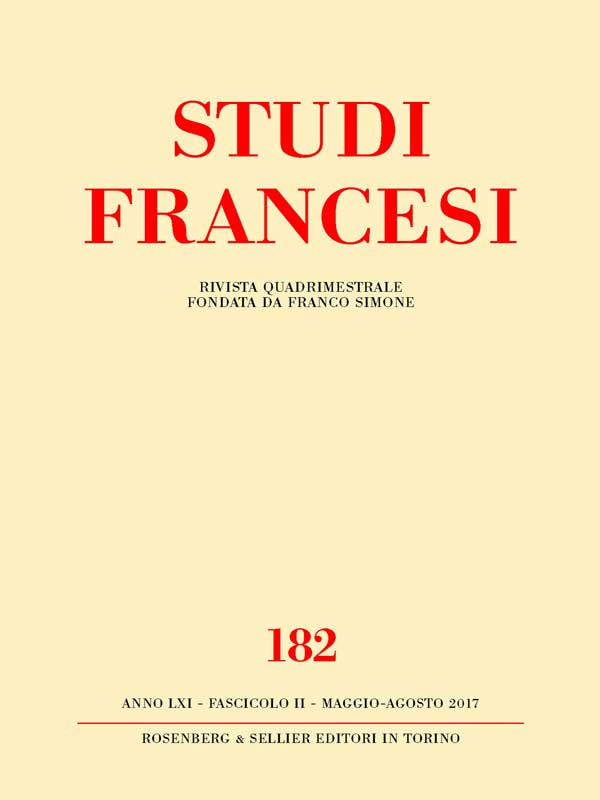 Studi Francesi 182
anno LXI, n. 182/2017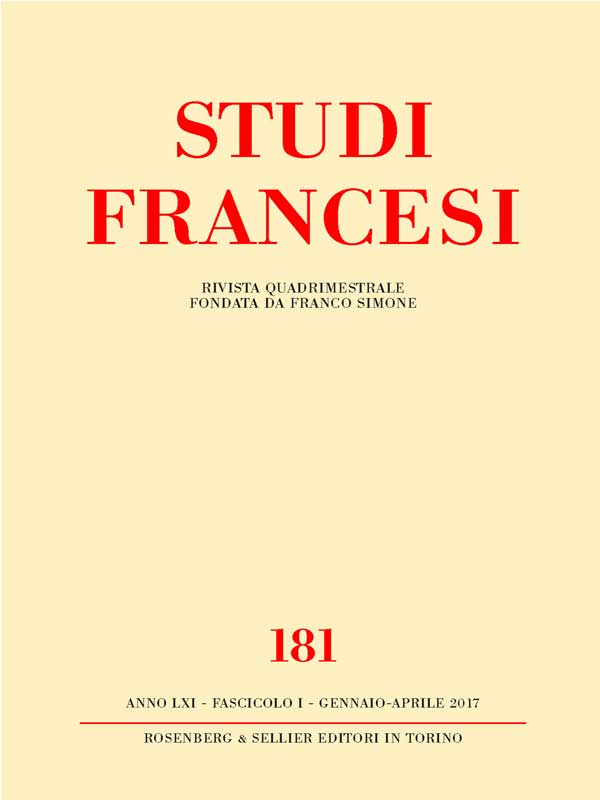 Studi Francesi 181
Pascal Quignard: les "Petits traités" au fil de la relecture
anno LXI, n. 181/2017
a cura di
Mireille Calle-Gruber, Stefano Genetti, Chantal Lapeyre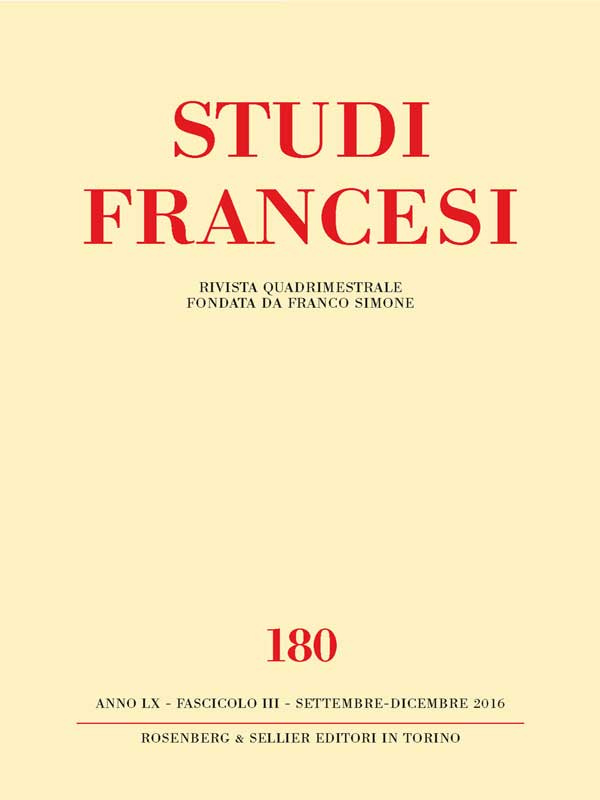 Studi Francesi 180
anno LX, n. 180/2016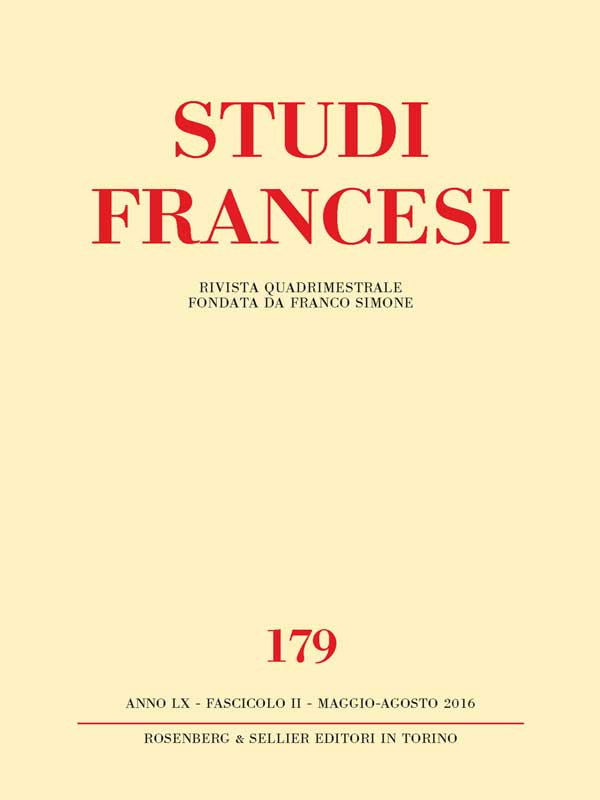 Studi Francesi 179
anno LX, n. 179/2016
Studi Francesi 178
Omaggio a Lionello Sozzi. Atti della giornata di studio Torino, Accademia delle Scienze, 25 settembre 2015
anno LX, n. 178/2016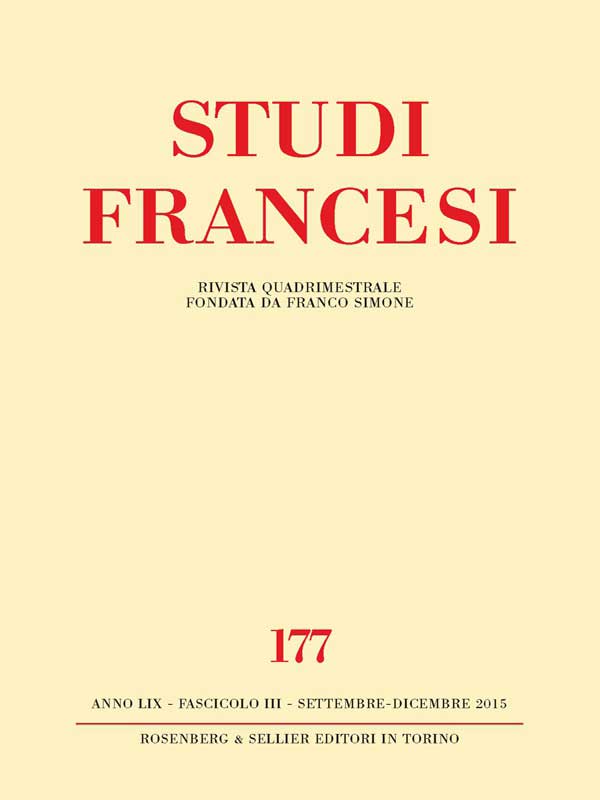 Studi Francesi 177
anno LIX, n. 177/2015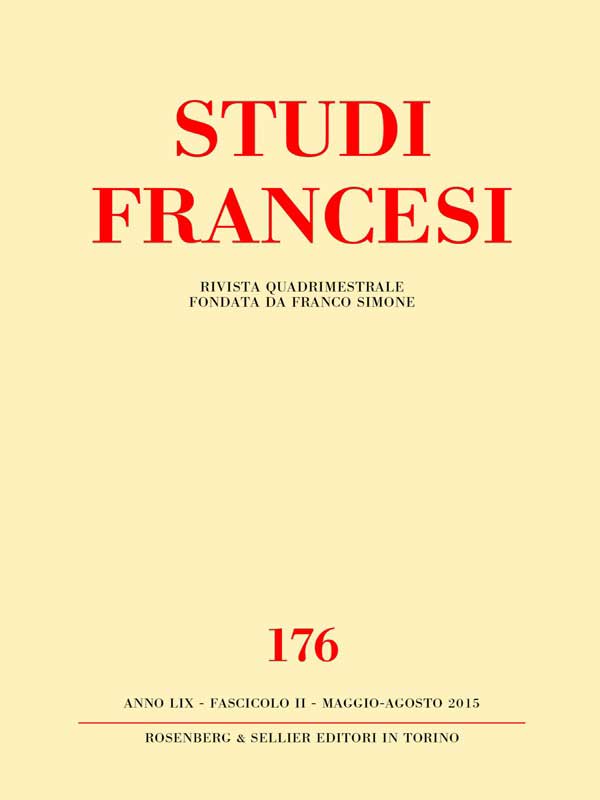 Studi Francesi 176
Intorno alle prime traduzioni di Dante in Francia. Questioni linguistiche e letterarie
anno LIX, n. 176/2015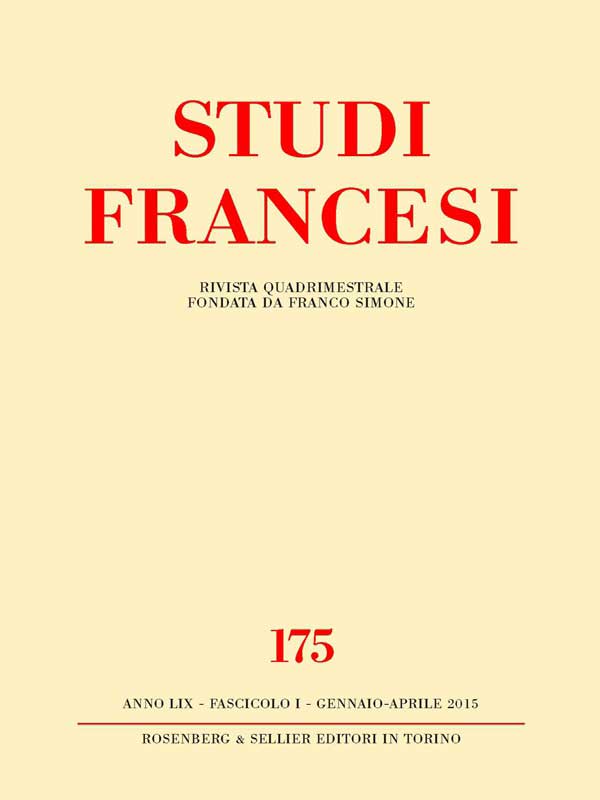 Studi Francesi 175
anno LIX, n. 175/2015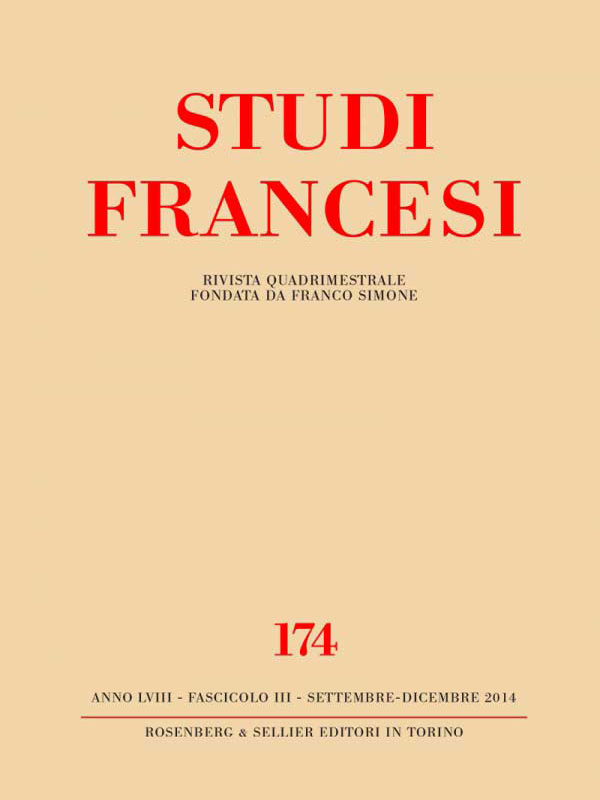 Studi Francesi 174
anno LVIII, n.174/2014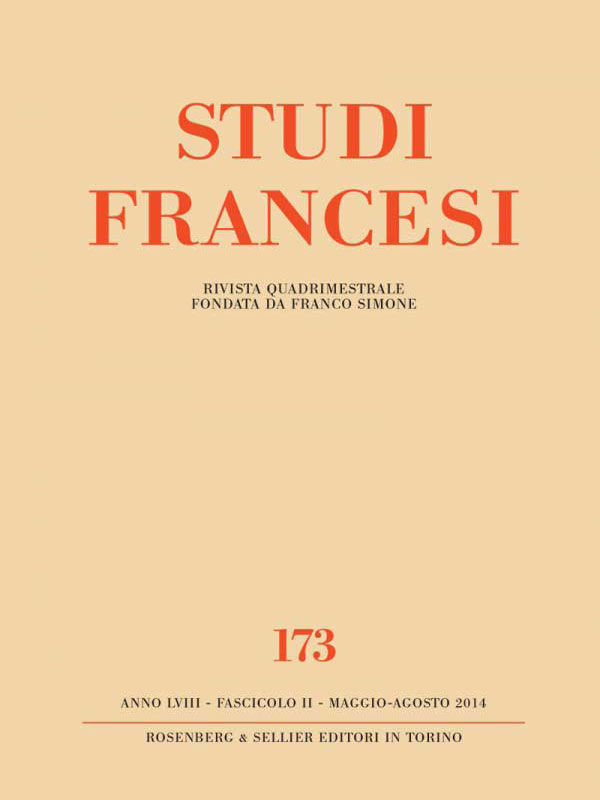 Studi Francesi 173
SERVO (serf, servant, valet, serviteur, laquais, servante. soubrette, bonne…)
anno LVIII, n. 173/2014
a cura di
Daniela Dalla Valle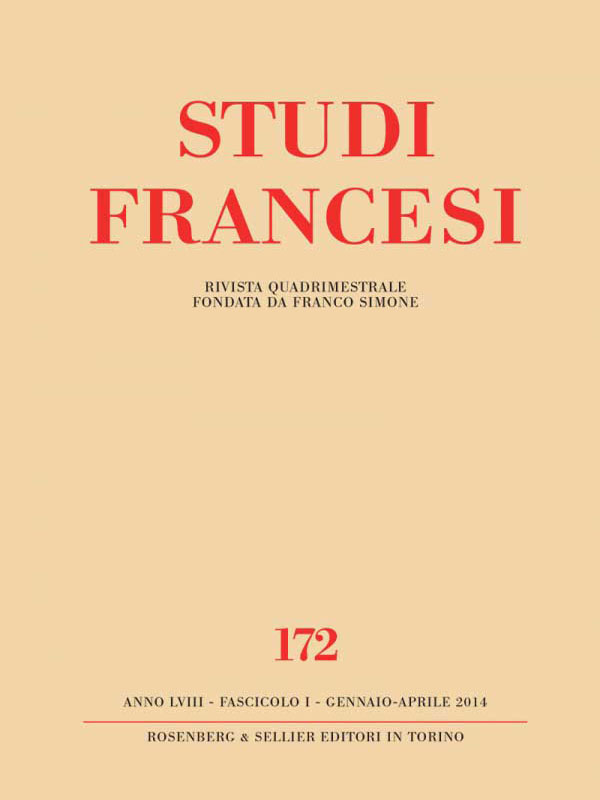 Studi Francesi 172
anno LVIII, n. 172/2014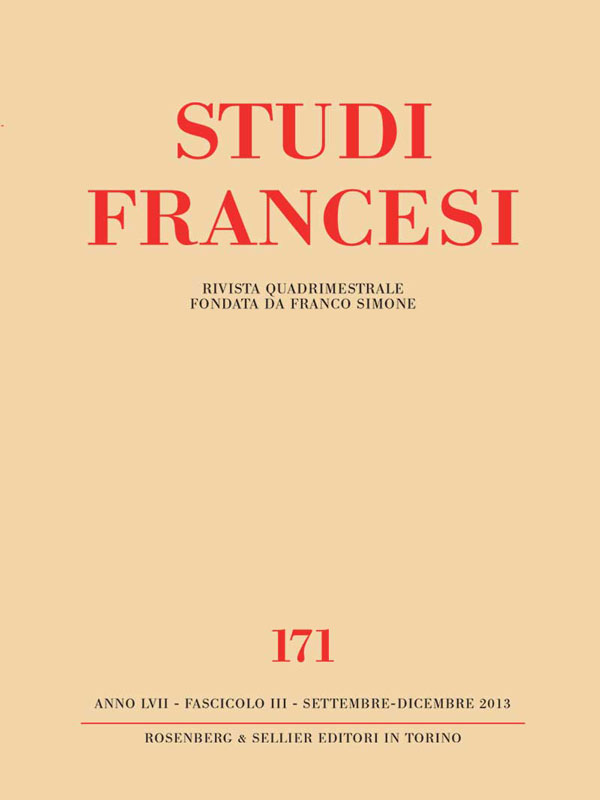 Studi Francesi 171
Franco Simone e la storiografia letteraria. Atti della giornata di studi nel centenario della nascita promossa dall'Accademia delle Scienze di Torino in collaborazione con «Studi Francesi» Torino - 24 maggio 2013
anno LVII, n. 171/2014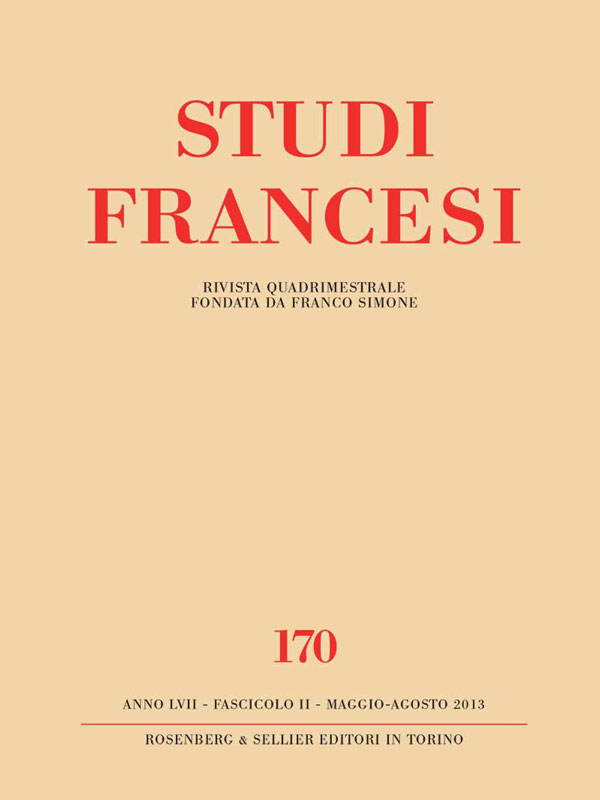 Studi Francesi 170
anno LVII, n. 170/2013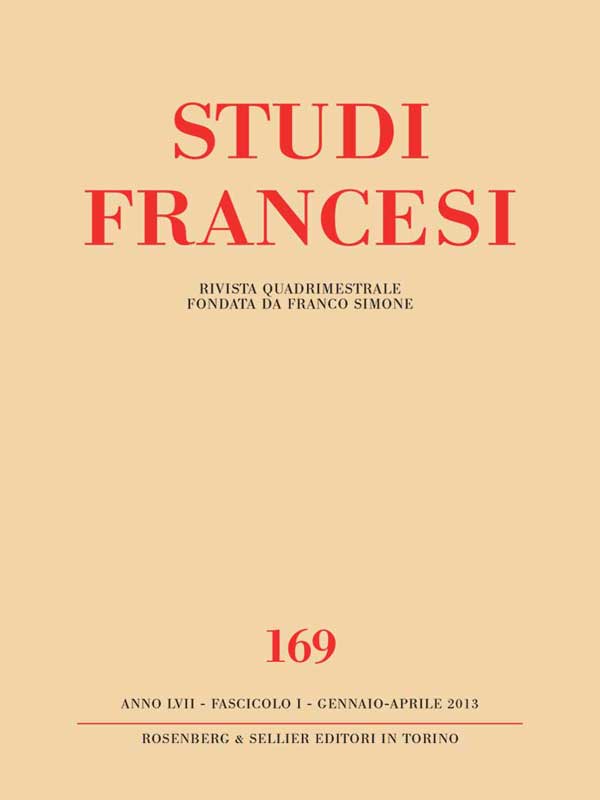 Studi Francesi 169
La révolution sur scène
anno LVII, n. 169/2013
a cura di
Pierre Frantz, Paola Perazzolo, Franco Piva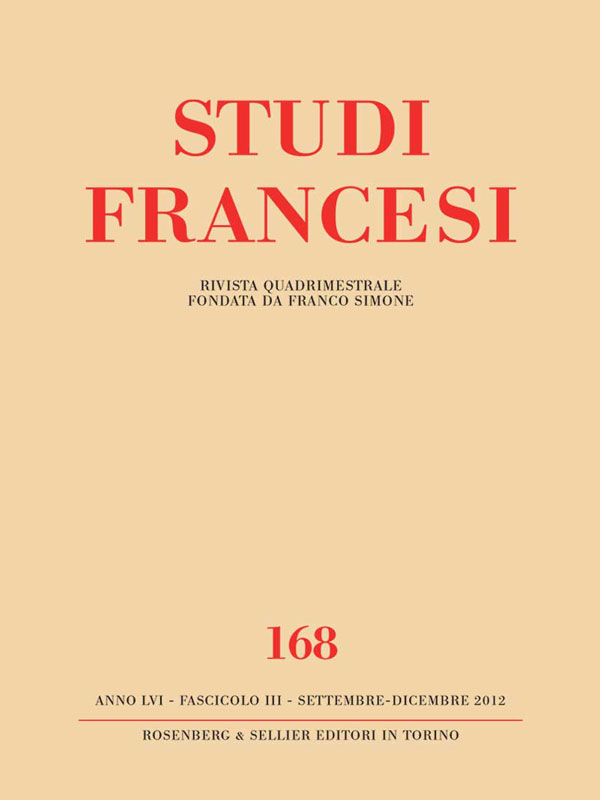 Studi Francesi 168
anno LVI, n. 168/2012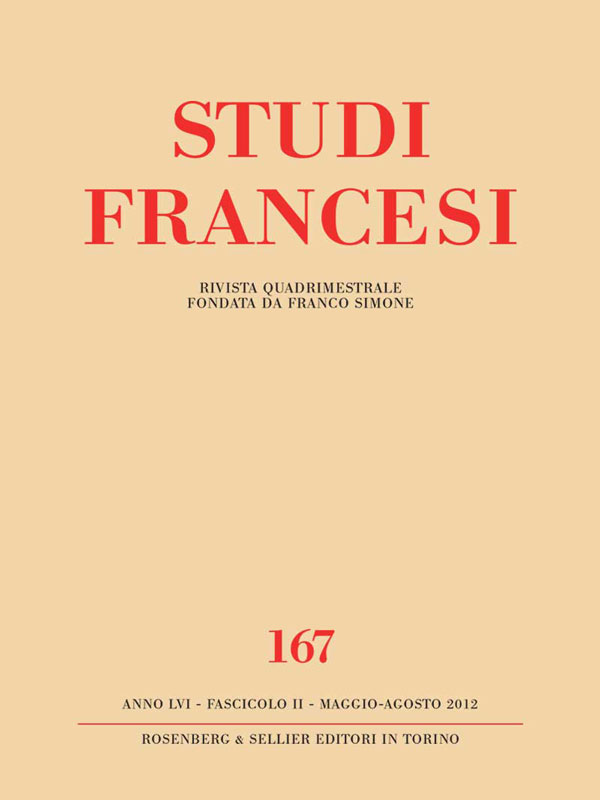 Studi Francesi 167
Attualità di Rousseau nel terzo centenario della nascita
anno LVI, n. 167/2012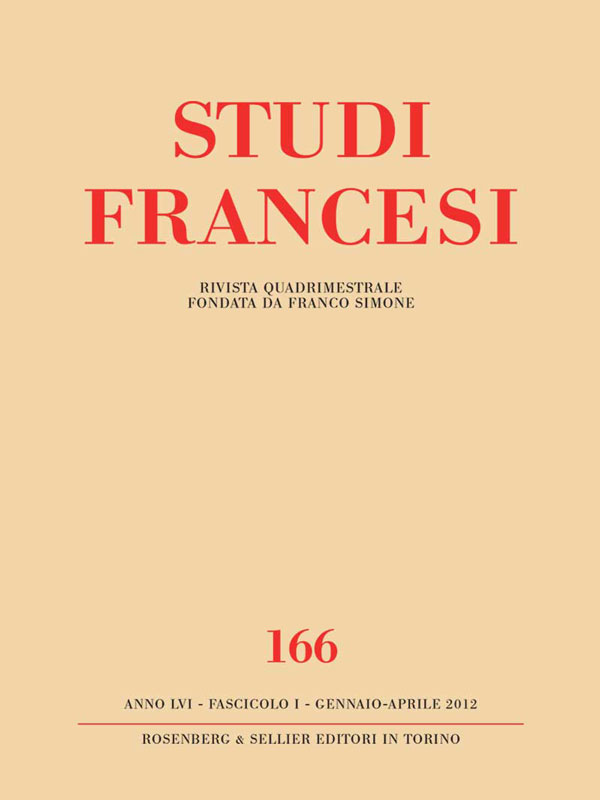 Studi Francesi 166
anno LVI, n. 166/2012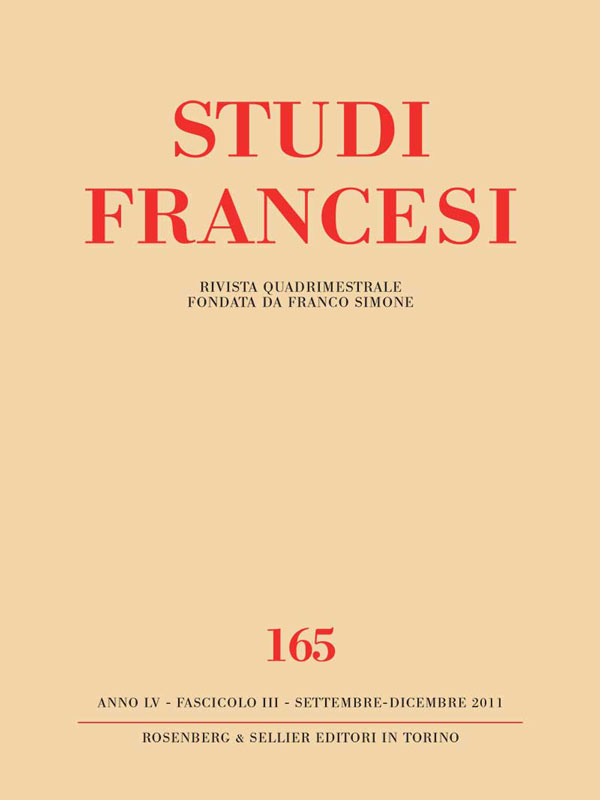 Studi Francesi 165
La rappresentazione della madre nella letteratura francese del novecento
anno LV, n. 165/2012
a cura di
Dario Cecchetti, Michele Mastroianni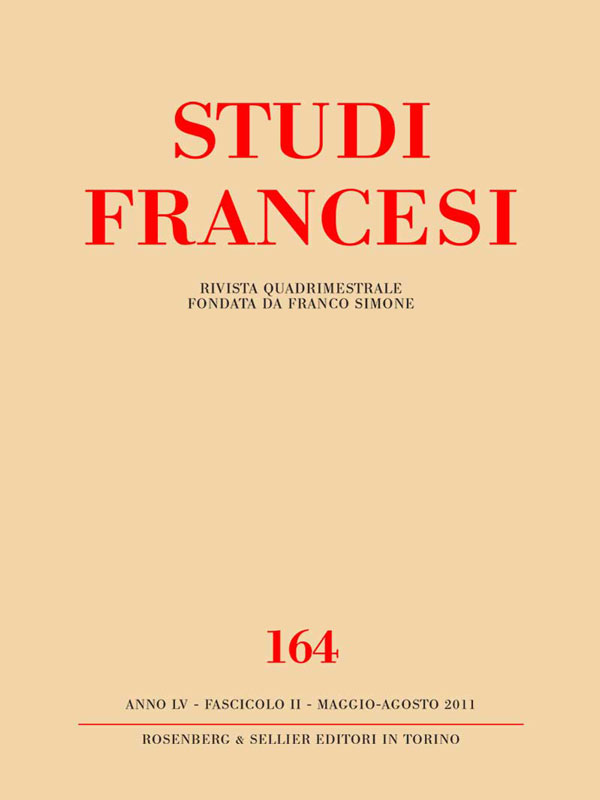 Studi Francesi 164
anno LV, n. 164/2011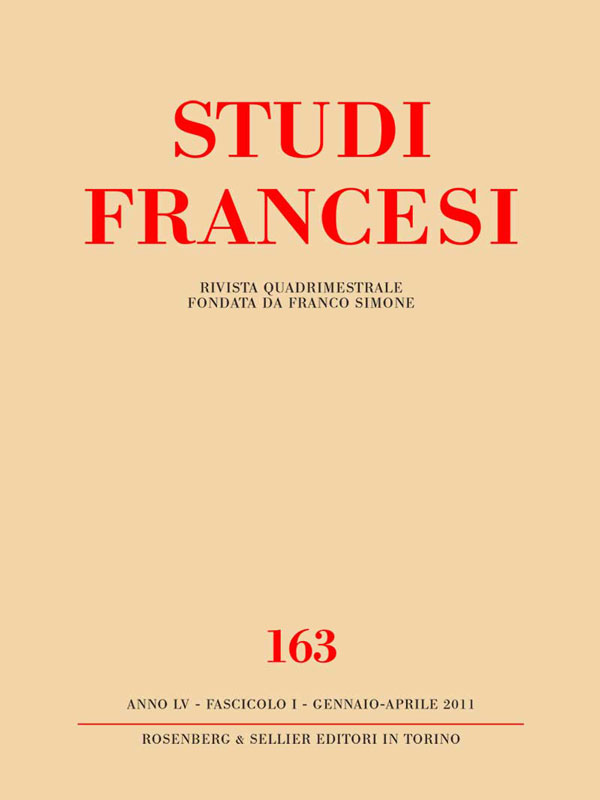 Studi Francesi 163
anno LV, n. 163/2011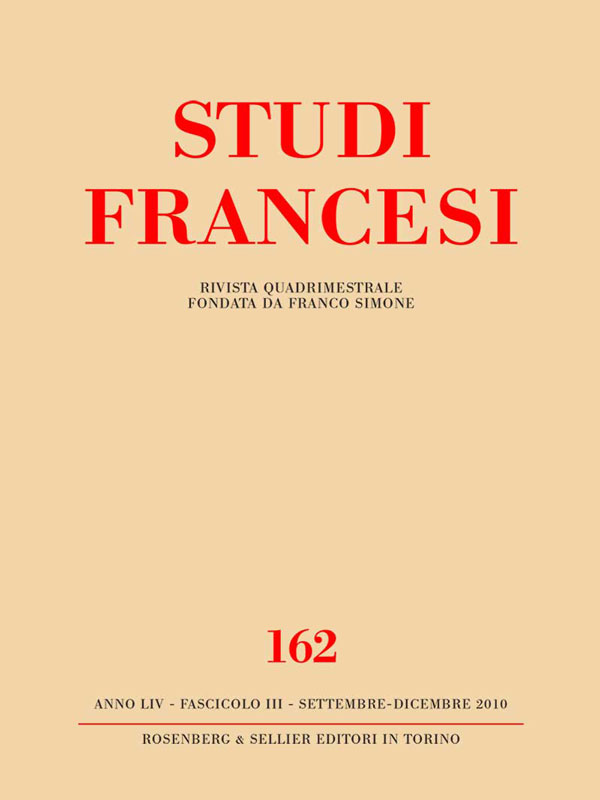 Studi Francesi 162
anno LIV, n. 162/2010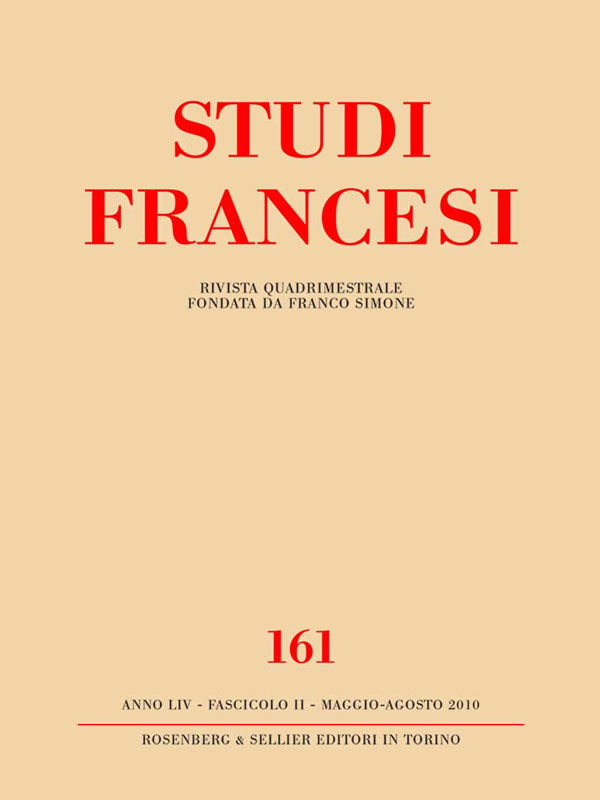 Studi Francesi 161
anno LIV, n. 161/2010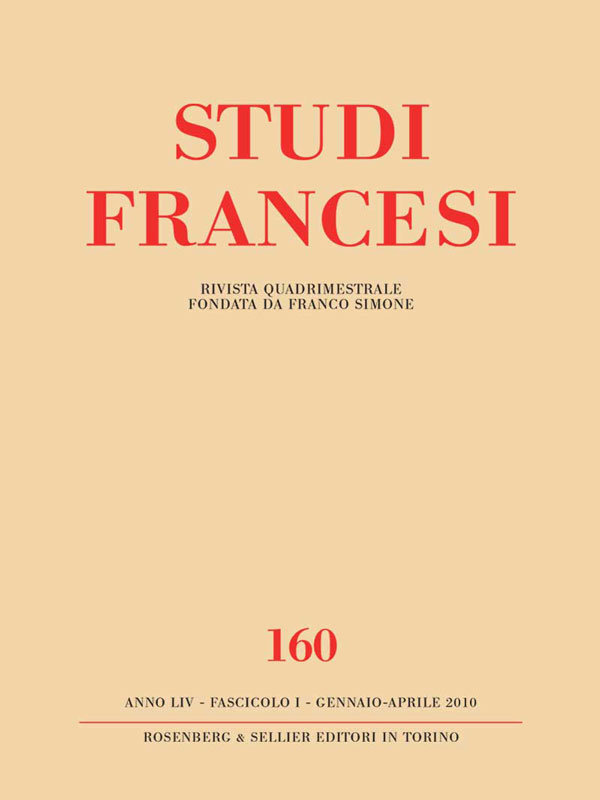 Studi Francesi 160
Il simbolismo. nomi, aspetti, momenti. Studi in memoria di Ivos Margoni
anno LIV, n. 160/2010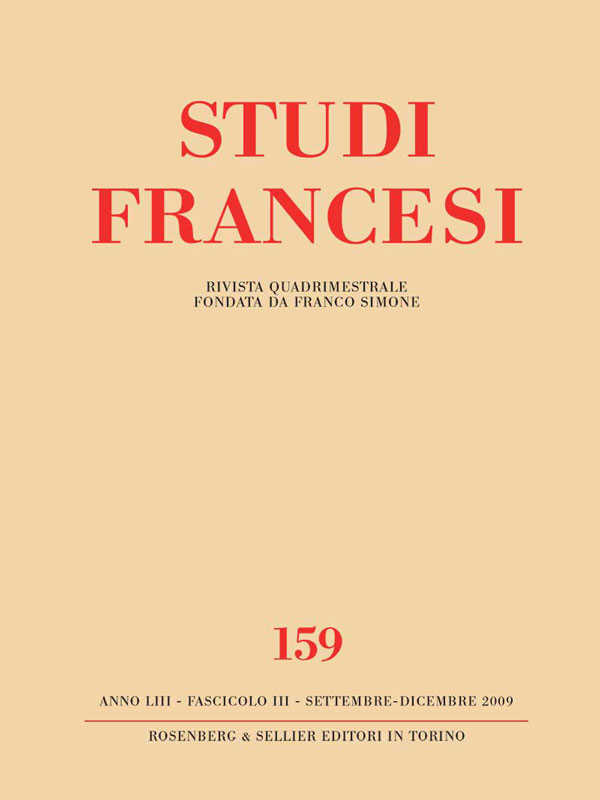 Studi Francesi 159
anno LIII, n. 159/2009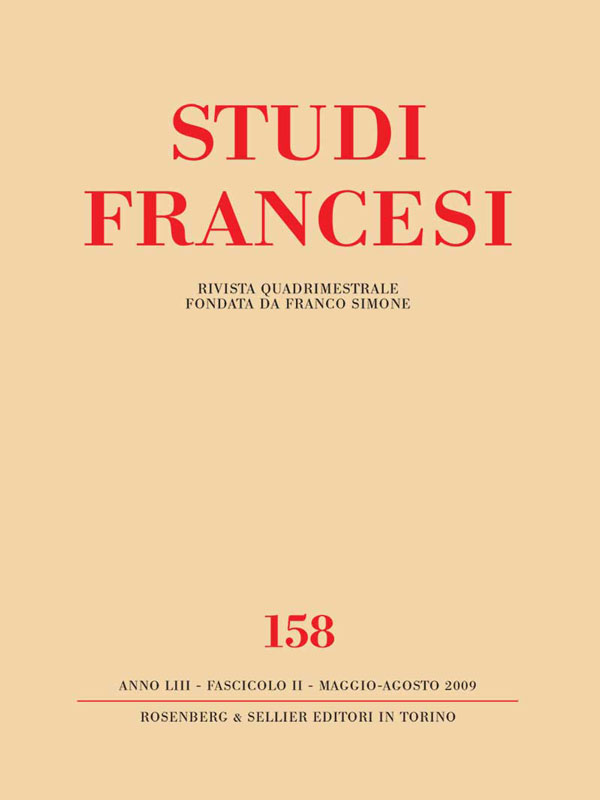 Studi Francesi 158
anno LIII, n. 158/2009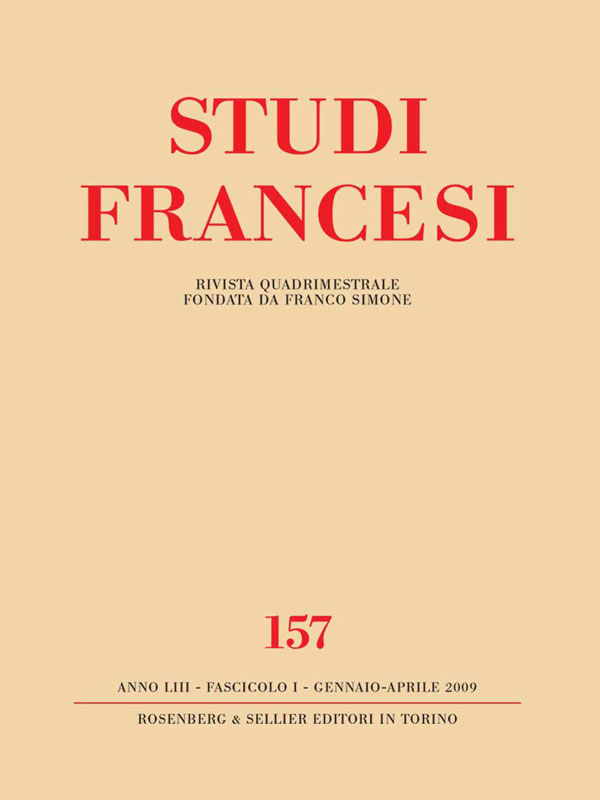 Studi Francesi 157
anno LII, n. 157/2009