Rivista di Estetica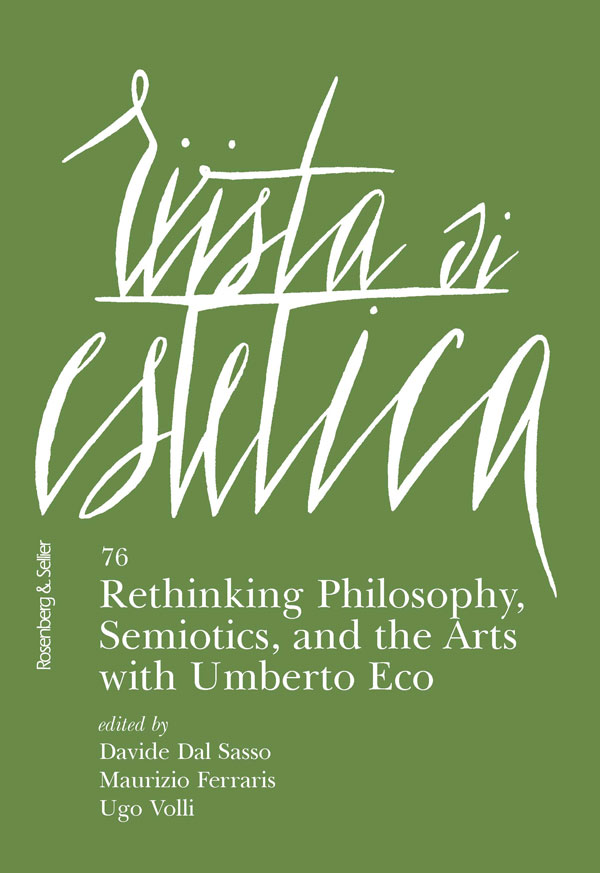 Rivista di Estetica 76 Rethinking Philosophy, Semiotics, and the Arts with Umberto Eco
anno LXI, n. 76/2021
a cura di Davide Dal Sasso, Maurizio Ferraris, Ugo Volli
anno di pubblicazione 2021
pp. 224
ISBN cartaceo 9788878859500
ISBN pdf 9788878859517
DOI
10.4000/estetica.7619
The theoretical path of Umberto Eco (1932-2016) was that of a great intellectual who ranged from non-fiction to literary production. His was a very extensive research programme. On the basis of studies concerning
aesthetics, communication and medieval thought, Eco developed it by elaborating a semiotic theory and studying language and cognition. His reflections on the method and possibilities of theoretical formulation
have been crucial to his research – precisely because, as he wrote, no theoretical system comes without contradictions. Philosophers therefore do not have the task of eliminating them but rather of seeking them out where they are not apparent. This issue of Rivista di Estetica collects essays that contribute to investigating several aspects and specificities of Eco's research in philosophy, semiotics and the arts, in order to bring to light his reflection on theoretical investigation and his commitment to developing a practice that can offer important resources for today's research. It is an invitation to rethink those three theoretical fields by drawing on the teachings of this great scholar.
Davide Dal Sasso. Filosofo e curatore, svolge attività di ricerca presso l'Università di Torino.
È membro di Labont-Center for Ontology, di SIE (Società Italiana d'Estetica) e NSAE (Nordic Society for Aesthetics). I suoi studi vertono sul rapporto tra filosofia e arti contemporanee con particolare interesse per i processi creativi, le pratiche artistiche, il ruolo dell'espressione e della rappresentazione nelle arti.
È l'ideatore e il curatore di "Dialoghi di Estetica", rubrica di filosofia e arti pubblicata dal 2012 sulla rivista Artribune.
Ha scritto diversi articoli su temi di estetica, arte contemporanea e filosofia dell'arte. È l'autore dei libri Nel segno dell'essenziale. L'arte dopo il concettualismo (Rosenberg&Sellier, 2020) e The Ground Zero of the Arts: Rules, Processes, Forms (Brill, 2021). Ha curato insieme alla filosofa Elisabeth Schellekens il volume Aesthestics, Philosophy, and Martin Creed (Bloomsbury, 2022).
---
Maurizio Ferraris (Torino 1956) è uno dei più originali filosofi contemporanei. Ha scritto più di sessanta Libri, molti dei quali tradotti in varie lingue. Professore ordinario di filosofia teoretica, è presidente del Laboratorio di Ontologia.
Editorialista di la repubblica, della neue zürcher Zeitung e di libération, dirige "scienza nuova", l'istituto di studi avanzati dedicato a Umberto Eco che unisce l'università e il politecnico di torino ed è rivolto alla progettazione di un futuro sostenibile, tanto dal punto di vista culturale quanto da quello politico, di cui Rosenberg & Sellier ospita la collana editoriale (Ontologia della trasformazione digitale, con germano Paini; Mobilitazione, burocrazia, normatività, con Gianluca Cuozzo). Per Rosenberg & Sellier ha Pubblicato anche Realismo positivo.
---
Ugo Volli nato a Trieste nel 1948, laureato in Filosofia a Milano nel 1972, dopo aver insegnato a lungo presso le Università di Milano e Bologna, è dal 2000 professore ordinario di Semiotica del testo presso il Dipartimento di Filosofia e Scienze dell'Educazione dell'Università di Torino, dove insegna Filosofia della comunicazione. All'Università di Torino dirige il Centro Interdipartimentale di Ricerca sulla Comunicazione, è membro del Consiglio della Scuola di dottorato in scienze umanistiche e coordinatore dell'indirizzo in Semiotica e Media del Dottorato in lettere. Presiede il corso di laurea magistrale in Comunicazione e culture dei media ed è vicedirettore alla ricerca del Dipartimento di Filosofia e scienze dell'Educazione.
Davide Dal Sasso, Maurizio Ferraris, Ugo Volli, Introduction
Umberto Eco, Maurizio Ferraris, Diego Marconi, The Dog Schema
section one | philosophy
Claudio Paolucci, The Notion of System in the Work of Umberto Eco: Summa, Structure, Code, Encyclopaedia, and Rhizome
Riccardo Fedriga, Dystopias and Historiographical Objects: The Strange Case of the Middle Ages
Maurizio Ferraris, Alive as You and Me
Section Two | Semiotics
Ugo Volli, The Origins of Umberto Eco's Semio-Philosophical Project
Anna Maria Lorusso, Power, Dangers and Resources of Forgery, from Theory to Novels
Massimo Leone, Indexes: Cultural Nature and Natural Culture
Section Three | Arts
Carola Barbero, Some Remarks on Eco's Confession and His Mystical Raptus
Stefano Oliva, Eco and Berio between Music and Open Work
Polona Tratnik, The Openness of Art. The Poetics of Art and Loss of Autonomy of Art
Davide Dal Sasso, On Form and Structure: Umberto Eco and the Basis for a Positive Philosophy of the Arts
varia
Timothy Tambassi, Per un catalogo geografico universale. Ontologie ibride, rappresentazioni cartografiche e intersezioni geo-informatiche
Dal Sasso - Ferraris - Volli, Introduction

pdf 249.7 KB


RdE76_00a-DalSasso_Ferraris_Vo
7,00 €

Eco - Ferraris - Marconi, The Dog Schema

pdf 418.7 KB


RdE76_00b-Eco_Ferraris_Marconi
7,00 €

Paolucci, The Notion of System in the Work of Umberto Eco: Summa, Structure, Code, Encyclopaedia, and Rhizome

pdf 429.8 KB


RdE76_01-Paolucci
7,00 €

Fedriga, Dystopias and Historiographical Objects: The Strange Case of the Middle Ages

pdf 385.1 KB


RdE76_02-Fedriga
7,00 €

Ferraris, Alive as You and Me

pdf 225.2 KB


RdE76_03-Ferraris
7,00 €

Volli, The Origins of Umberto Eco's Semio-Philosophical Project

pdf 380.1 KB


RdE76_04-Volli
7,00 €

Lorusso, Power, Dangers and Resources of Forgery, from Theory to Novels

pdf 332.5 KB


RdE76_05-Lorusso.pdf
7,00 €

Leone, Indexes: Cultural Nature and Natural Culture

pdf 313.8 KB


RdE76_06-Leone
7,00 €

Barbero, Some Remarks on Eco's Confession and His Mystical Raptus

pdf 335.6 KB


RdE76_07-Barbero
7,00 €

Oliva, Eco and Berio between Music and Open Work

pdf 317.8 KB


RdE76_08-Oliva
7,00 €

Tratnik, The Openness of Art. The Poetics of Art and Loss of Autonomy of Art

pdf 345.8 KB


RdE76_09-Tratnik
7,00 €

Dal Sasso, On Form and Structure: Umberto Eco and the Basis for a Positive Philosophy of the Arts

pdf 402.6 KB


RdE76_10-DalSasso
7,00 €

Tambassi, Per un catalogo geografico universale. Ontologie ibride, rappresentazioni cartografiche e intersezioni geo-informatiche

pdf 367.3 KB


RdE76_11-Tambassi
7,00 €