Phenomenology and Mind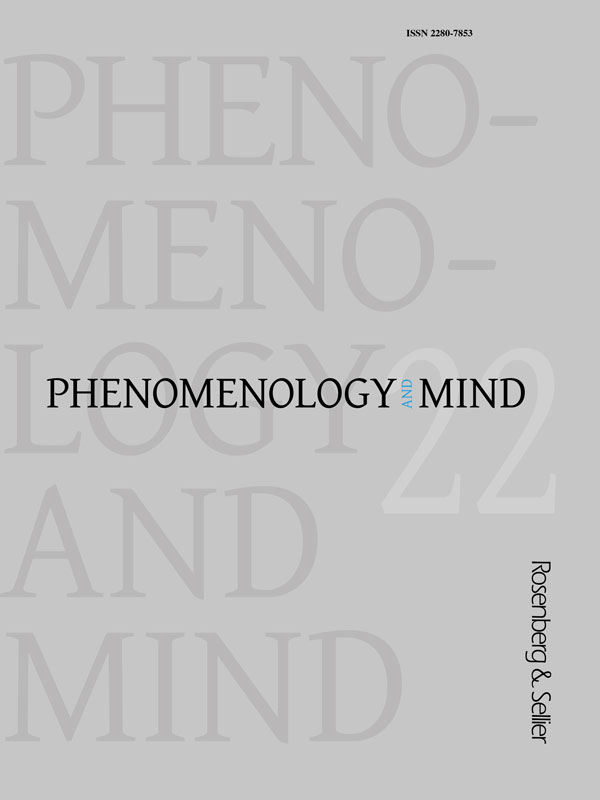 Phenomenology and Mind 22 Mind, Language, and the First-Person Perspective
N. 22/2022
a cura di Marta Benenti, Laura Caponetto, Elisabetta Sacchi
anno di pubblicazione 2022
pp. 200
ISBN cartaceo 9791259931535
ISBN pdf 9791259931542
Elisabetta Sacchi, Marta Benenti, Laura Caponetto
Introduction
Galen Strawson
Internal and External Content: A New Alignment
Sam Coleman
Intentionality, Qualia, and the Stream of Unconsciousness
Jakub Mihálik
Inner Awareness as a Mark of the Mental
Davide Zottoli
Intentionality and Inner Awareness
Andrea Tortoreto
Intentionality and Dualism: Does the Idea that Intentionality Is the MOM Necessarily Entail Dualism?
Brian Ball
Intentionality, Point of View, and the Role of the Interpreter
Federico Zilio
A Ghost in the Shell or an Anatomically Constrained Phenomenon? Consciousness through the
Spatiotemporal Body
Maik Niemeck
Two Problems with Shoemaker's Regress and How to Deal with Them
Søren Overgaard
Amodal Completion and the Impurity of Perception
Giulia Martina
Phenomenally-grounded Intentionality for Naïve Realists
Daniel S. H. Kim
Naïve Realism and Minimal Self
Max Minden Ribeiro
Is Presence Perceptual?
Tim Crane, Alex Grzankowski
The Significance of the Many Property Problem
Simone Nota
Wittgenstein's Transcendental Thought Experiment in Ethics
Nadja-Mira Yolcu
Vindicating Avowal Expressivism: A Note on Rosenthal's Performance-Conditional Equivalence
Thesis
Sacchi-Benenti-Caponetto, Introduction

pdf 123 KB


DOI 10.17454/pam-2201
P&M_22_01-SACCHI-BENENTI-CAPON
0,00 €

Strawson, Internal and External Content: A New Alignment

pdf 249.2 KB


DOI 10.17454/pam-2202
P&M_22_02-STRAWSON
0,00 €

Coleman, Intentionality, Qualia, and the Stream of Unconsciousness

pdf 196.2 KB


DOI 10.17454/pam-2203
P&M_22_03-COLEMAN
0,00 €

Mihálik, Inner Awareness as a Mark of the Mental

pdf 186.6 KB


DOI 10.17454/pam-2204
P&M_22_04-MIHALIK
0,00 €

Zottoli, Intentionality and Inner Awareness

pdf 187.1 KB


DOI 10.17454/pam-2205
P&M_22_05-ZOTTOLI
0,00 €

Tortoreto, Intentionality and Dualism: Does the Idea that Intentionality Is the MOM Necessarily Entail Dualism?

pdf 176.1 KB


DOI 10.17454/pam-2206
P&M_22_06-TORTORETO
0,00 €

Ball, Intentionality, Point of View, and the Role of the Interpreter

pdf 191.2 KB


DOI 10.17454/pam-2207
P&M_22_07-BALL
0,00 €

Zilio, A Ghost in the Shell or an Anatomically Constrained Phenomenon? Consciousness through the Spatiotemporal Body

pdf 183.4 KB


DOI 10.17454/pam-2208
P&M_22_08-ZILIO
0,00 €

Niemeck, Two Problems with Shoemaker's Regress and How to Deal with Them

pdf 198.8 KB


DOI 10.17454/pam-2209
P&M_22_09-NIEMECK
0,00 €

Overgaard, Amodal Completion and the Impurity of Perception

pdf 259.6 KB


DOI 10.17454/pam-2210
P&M_22_10-OVERGAARD
0,00 €

Martina, Phenomenally-grounded Intentionality for Naïve Realists

pdf 177.1 KB


DOI 10.17454/pam-2211
P&M_22_11-MARTINA
0,00 €

Kim, Naïve Realism and Minimal Self

pdf 174.4 KB


DOI 10.17454/pam-2212
P&M_22_12-KIM
0,00 €

Ribeiro, Is Presence Perceptual?

pdf 180.4 KB


DOI 10.17454/pam-2213
P&M_22_13-RIBEIRO
0,00 €

Crane-Grzankowski, The Significance of the Many Property Problem

pdf 160.2 KB


DOI 10.17454/pam-2214
P&M_22_14-CRANE-GRZANKOWSKI
0,00 €

Nota, Wittgenstein's Transcendental Thought Experiment in Ethics

pdf 199.2 KB


DOI 10.17454/pam-2215
P&M_22_15-NOTA
0,00 €

Yolcu, Vindicating Avowal Expressivism: A Note on Rosenthal's Performance-Conditional Equivalence Thesis

pdf 185.3 KB


DOI 10.17454/pam-2216
P&M_22_16-YOLCU
0,00 €